Are you a true audiophile? Do you dream of turning heads with a designer car audio system?
At 212 Motoring, we're your source for custom car audio design and installation in Brooklyn and beyond. We carry an exclusive selection of car stereo components from the industry's most prestigious manufacturers, specializing in bespoke car audio systems for high-end vehicles. 
To find out how we can compose an ultramodern sound system design for you, call now!
Top-of-the-Line Car Stereo Designs
We're available to give your factory car speakers a simple boost if that's all you want; however, our true strength lies in our ability to design and execute custom car audio systems from scratch.
With an intensive knowledge of automotive electronics, car stereo components, and acoustic engineering, 212 Motoring will give you a mobile audio system that's unrivaled in sound quality and appearance. We achieve this by using only the highest-quality car stereo products from the OEM industry's hottest brands, including:
Morel Hifi
Blam Audio
HELIX DSP
Brax Audio
Drawing on the latest innovations in the car stereo world, our car audio designers will develop an intelligent layout that produces a high-fidelity listening experience for your vehicle. And because we design your bespoke car audio system to integrate with the precise specs of your car, we're able to guarantee the cleanest and tightest sound possible.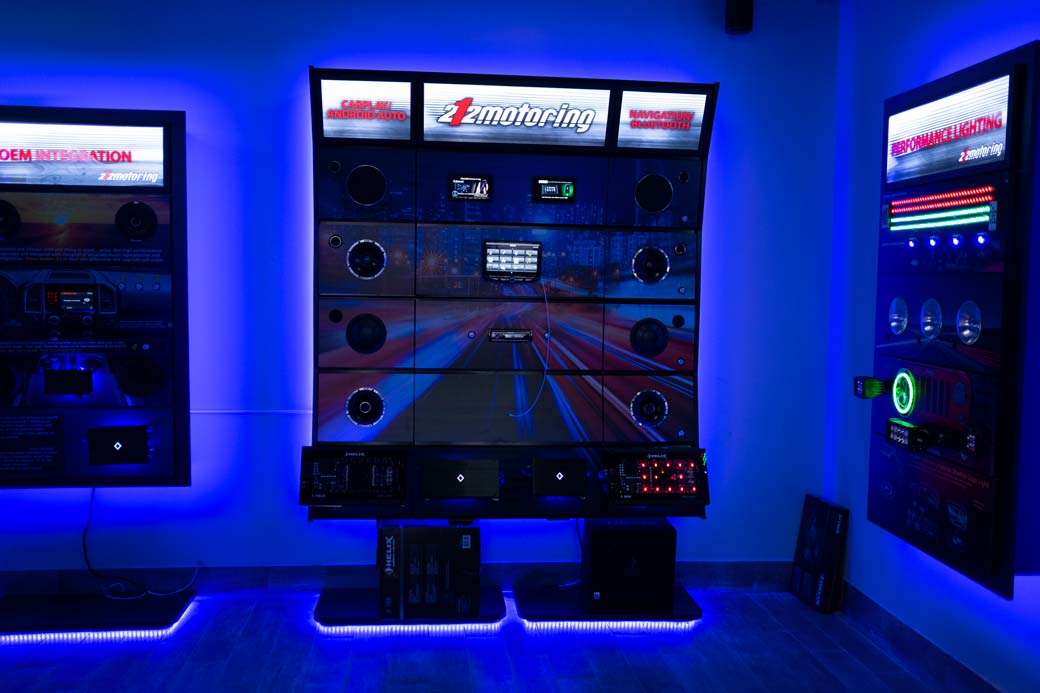 Furthermore, thanks to our state-of-the-art facility, CAD software, and 3D printing technologies, we fabricate custom parts that enable us to seamlessly blend every component with your interior. When we're finished, the hardware and wiring are completely invisible. 
Our discreet installations are available for all car stereo components, including:
Amps
Subwoofers
Head units
Speakers
Tweeters

Accessories, including smartphone mirroring

And more!
Most Experienced Car Audio Installers in Brooklyn
212 Motoring is proud to say we have 25+ years of experience in the aftermarket car audio business. We've been a custom car audio shop right here in Brooklyn since 1998, and you'll have a hard time finding another customization enterprise with more experience or knowledge than us.
In addition, we're fully licensed and insured for custom car audio installation, so you can breathe easy knowing you're protected from liability. For your added protection, all of our work is warrantied and we honor all of the manufacturer warranties, as well. We want our customers' new car stereo systems to provide years and years of heart-thumping bass, crisp sound, and serious pride. 
Don't settle for anything less than the best. Get the finest car audio accessories and bespoke installation services in Brooklyn, Queens, and New York—call 212 Motoring for your free estimate today!